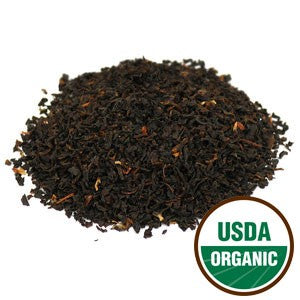 INVENTORY CLEARANCE - BUY BY THE OUNCE - AS MUCH AS IS AVAILABLE.
This small leaf tea is a bright and lively classic that brews to a bright deep due with a pronounced aroma and a full rich taste. This delicious tea can be enjoyed "as is" or with milk and/or sugar any time of the day.
Broken Orange Pekoe (B.O.P.) is the next grade below Orange Pekoe, which designates a smaller, broken leaf. When crushed to make bagged teas, the tea is referred to as "Broken" (B).
Ingredients: Organic Ceylon B.O.P. Tea*. *Fair Trade Certified™ by Fair Trade USA.