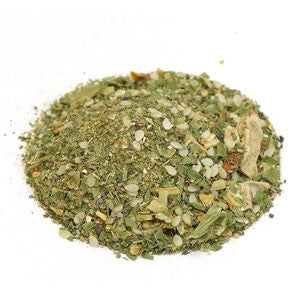 INVENTORY CLEARANCE - BUY BY THE OUNCE - AS MUCH AS IS AVAILABLE.
When it comes to salads, lettuce is literally just the tip of the iceberg. Adding salad herbs to your mix of fresh greens and vegetables can really put some pizzazz into what might otherwise be a dull mess of green stuff.
Dried salad herbs 
can be readily used in vinaigrette or other salad dressings, or just sprinkled on. Popular salad herbs include many that you might not have considered, such as sorrel. Sorrel is sometimes eaten fresh as a salad green itself, but used as salad herbs, they can impart a tart, berry-like flavor. Salad Burnet, a member of the rose family, is another salad herb that has a slightly sweet flavor similar to that of cucumber.
One of the more exotic salad herbs is a native of the Mediterranean countries, known as eruca sativa, or arugula. This slightly sweet herb can add a peppery flavor to an otherwise bland salad; the seeds are also edible.
Bulk salad herbs include familiar favorites that you might not have considered sprinkling over your salad, such as basil, dill, oregano, coriander, fennel, mint and chives as well as those immortalized in English folksong: parsley, sage, rosemary and thyme..
Ingredients: Sesame seeds, onion, spinach, black pepper, tomato, garlic, parsley, rosehips, chives, lemongrass, lemon peel, oregano, poppy seed and basil. SALT FREE!